Tea with Brittany Lea Recap: Mastering Your 1099's in VRM
Posted On Friday, January 15, 2016
---
Michelle Smith Makes 1099's A Breeze!
Yesterday was a ton of fun having Michelle Smith on
Tea with Brittany Lea
. Michelle is the glue the keeps our help desk together and has so much experience in the VRM system it is intimidating. She took a few moments to talk over her tips for creating 1099's in VRM as painlessly as possible, and considering that this information is so useful we decided that it needed to be available for all our clients. We have created a recording recap of the webinar for our clients to check out even if you did miss the live webinar.
Michelle also graciously gave me her slides and notes to share with everyone and you can
download those here
.
If you are looking for a quick and dirty version of the information we have presented in this webinar as a small refresher you can also check out our
Knowledge Base Article here
to get that.
So without further adieu I present the webinar recap.... Enjoy! ;)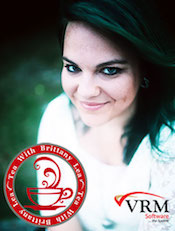 Happy Tax Day!

~ Brittany Thompson
Social Marketing and Media Manager at VRM, Brittany has been with VRM since 2010. She has helped dozens of clients market effectively using social media, blogging, email marketing, and online advertising. She presented at the Annual VRMA show in 2014 and is now the host of a popular monthly webisode "Tea with Brittany Lea". Join her next webinar: http://bit.ly/TeaWithBrittanyLea
Comment on this post!