---
7 Must-Have Marketing Strategies for Your Vacation Rental Management Company
Posted On Tuesday, August 9, 2022
---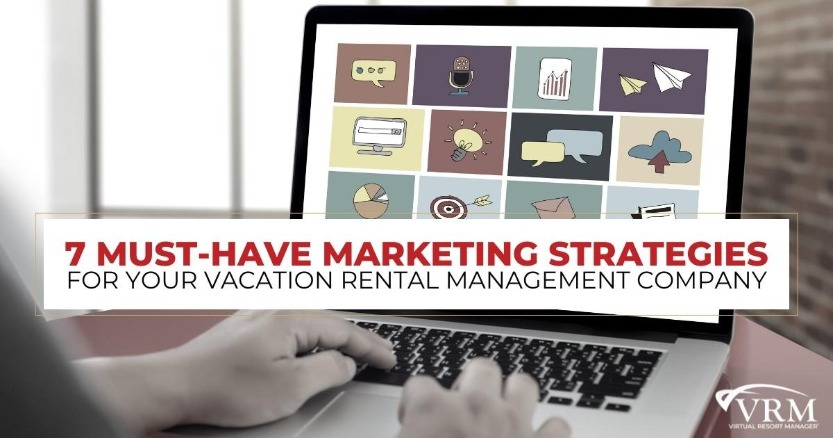 When it comes to marketing strategies for your vacation rental management business, you may not automatically think of your favorite vacation rental software company. However, Virtual Resort Manager is here to help with more than just your software. We have an entire team dedicated to digital marketing for the vacation rental industry.
Check out these seven powerful must-have strategies that you should invest in for the wellness and growth of your business and brand.
SEO AUDIT & ONE-TIME OPTIMIZATION
SEO stands for Search Engine Optimization
. It is defined as the science of improving a website to increase its visibility when people search for products or services. As we are sure you already know, a business is more likely to capture business and leads to their website depending on their website visibility within search engines.
A good SEO Audit and One-Time Optimization include:
Extensive Keyword Research
Complete Audit of Website
Title Tags/Meta Descriptions Added and/or Updated
Google Analytics Code/Google Webmaster Tools & more
Your website needs to be optimized in order to rank well and be found by your future guests.
MONTHLY SEARCH ENGINE OPTIMIZATION
Ongoing SEO is a very powerful and necessary marketing tool. By continuously optimizing your website and its content, you give search engines like Google the cues they are looking for to provide you with a better search ranking. Being found organically on Google and other search engines is worth its weight in gold for your potential guests.
Stand out from the crowd and get found by using these SEO tactics:
Blogging
eCommerce Tracking
Keyword Research & Tracking
Google Search Console Management & More
PAY-PER-CLICK ADVERTISING MANAGEMENT
In addition to organic tactics like SEO, you need to consider paid digital advertisement. Using Google Ads to establish pay-per-click (PPC) campaigns is an excellent way to target people looking for vacation rentals in your area. With this kind of advertisement, you only pay when someone clicks on your ad.
Here are a few things to consider when thinking about PPC campaigns:
Account & Campaign Set-up
Ad Copy Creation
Competitor Research
Keyword Research & Placement
Ongoing Optimization
SOCIAL MEDIA MARKETING
Social Media Marketing (SMM)
includes marketing your company on platforms like Facebook, Pinterest, Instagram, Twitter, TikTok, or even LinkedIn. Not all social media platforms are created equally, so you will want to do your homework and find out what channel your guests use most frequently. Those are the platforms where you will want to market your vacation rentals and your professional vacation rental management services. The heart of social media is consistent posting with quality content. This is the place to display your beautiful properties, availability, specials, FAQs, and announcements, to showcase your staff, post guest reviews, and to establish your company as the area vacation expert.
When it comes to SMM, don't forget about:
High Quality Graphics
Monitoring of Social Accounts
Engaging with Audience
Staying Consistent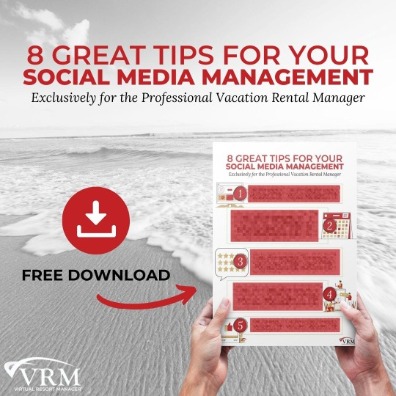 Get Our smm freebie!!
You are going to want this free download - that is full of great tips!
EMAIL MARKETING
One of the highest returns on investments that you will find is
email marketing
. Using something as simple as an email campaign to communicate with your previous guest and leads is an easy way to get more bookings. Using targeted emails to specific groups of guests will take basic email marketing to the next level. Thankfully, if you use VRM as your vacation rental software, you have access to a plethora of reports that will help you sort data and guest information so you can make an informed decision about email marketing.
Email marketing is also a great way to stay top of mind with your guests so they will return year after year. It is also a wonderful way to establish and protect your brand.
BLOGGING
As mentioned above,
blogging
is an excellent contributor to good SEO tactics. Not only does blogging give your brand a voice, but it also helps to establish your company as an industry and area expert.
Blogs add valuable and consistent content to your website, add value and information for your guests, give you a place to insert those keywords, and are excellent content to share on social media and in email marketing.
REPUTATION MANAGEMENT
A good reputation goes a long way in the very competitive vacation rental space. Reputation Management is a marketing strategy that is more than just collecting good reviews. It is a well-planned process of filtering responses and reviews, responding to any negative comments, and promoting the positive reviews.
Seeing how your company handles negative feedback and complaints shows future guests what they expect if a problem should arise. Good conflict resolution is a must-have piece of your reputation management. Of course, everyone wants those 5-star reviews... and a great reputation management strategy will help you in this endeavor.
Here are a few things that a quality rep management strategy can do for you:
Increase Reviews
Increase Star Rating
Improve Online Presence
Demonstrate Response/Review Interaction
VRM MARKETING SERVICES
Good marketing is at the heart of every business, but good marketing takes time. The time that you, as a rental manager, likely do not always have. Running a vacation rental company is hard work, and it never takes a day off, and we know it. That is why we are here to help you.
If you would like more information about our VRM Marketing Services, we would love to schedule a personal consultation with you. We offer all of the services for each of the strategies mentioned above.
The VRM Marketing Team consists of a Marketing Director, Email Marketing Manager, SEO Analyst, Graphic Designer, SMM Manager, and staff bloggers & content writers. We provide marketing reports and support meetings to all of our marketing clients. VRM Marketing Services are exclusive to vacation rental professionals.
Let us help you take your bookings and branding to the next level! Click here to contact the marketing team today.
Marketing your vacation rental company just got easier!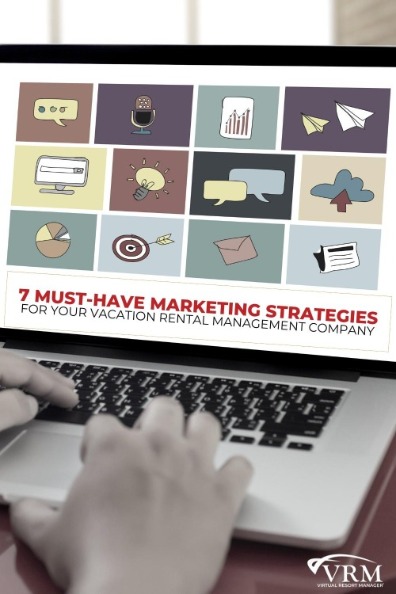 Comment on this post!