---
How VRM Clients Can Enhance Revenue and Guest Experience with DACK
Posted On Thursday, June 8, 2023
---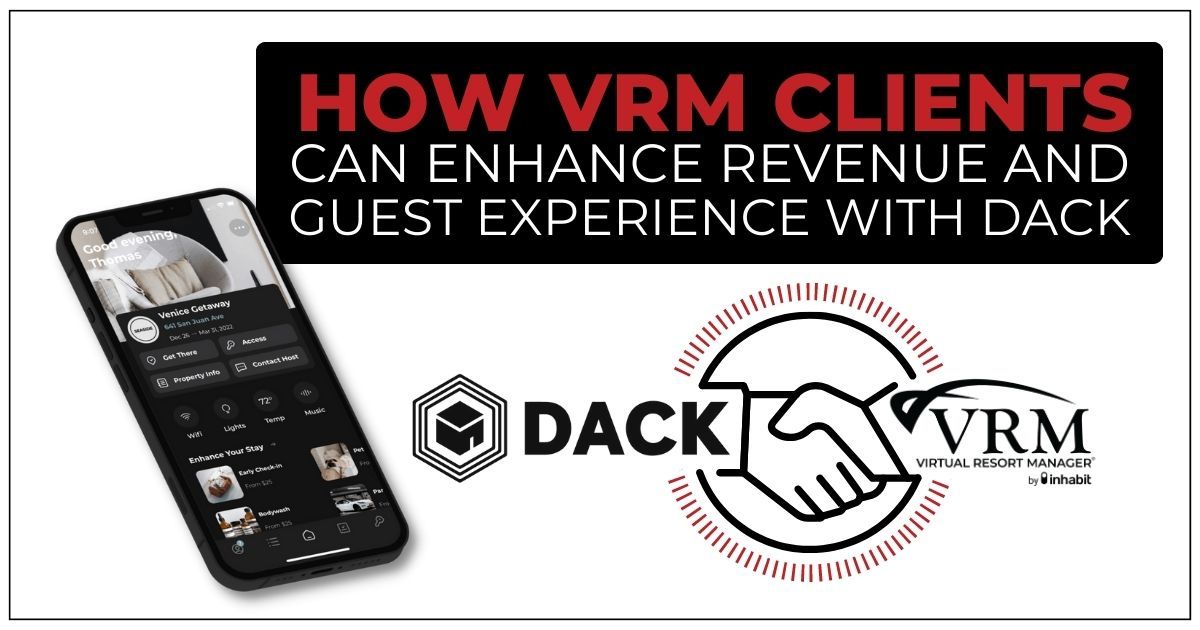 In the competitive vacation rental industry, providing unique and personalized experiences is essential to stand out from the crowd. Property managers are always on the lookout for innovative tools that can enhance their offerings and streamline operations. In this blog post, we will explore the game-changing capabilities of Dynamic Attribute Control Kit (DACK) which is now being offered to VRM's vacation rental software clients. Let us introduce you to DACK, our newest integration partner. See how they can help revolutionize your vacation rental business with their portal and guest app for both Android and iPhone.
Understanding DACK
DACK, developed by DACK Inc., is a cutting-edge technology and application that gives vacation rental managers to powerful portal to control, customize and manage guest experience, messaging, verification, check-in/out, and more. It provides property managers with the ability to curate unique guest experiences, maximize revenue potential, and stay ahead in the ever-evolving vacation rental market. By offering stay enhancements and upsells to your guests from the convenience of their smart device, DACK helps to boost revenue. Guests are able to customize their stay through the unique offerings and have helpful guest information in the palm of their hand.
Tailoring the Guest Experience
One of the standout features of DACK is its ability to personalize the guest experience. With DACK, property managers can offer a wide range of convenient tools and vacation experience options at the push of a button. The guest can easily navigate to the property using the map feature, purchase add-on (such as a picnic basket), or use coupons to special attractions or restaurants. They can even unlock the door or access door codes directly within the app. If a guest wants to find the best beer garden in the area, they can find that too.
Revenue Optimization
DACK makes it easy for property managers to offer optional extras like early check-in and pet-fees, or fun upgrades like a private chef. After the initial reservation or even during the car ride to your destination, guests can scroll through the add-on options. The options are endless for the guest to curate the perfect vacation itinerary, right from their smart home.
Streamlining the Vacation Experience
DACK also provides other functionality that makes the vacation experience for guests streamlined, with an all-in-one solution. Here are a few of the options that can be offered to your guests, all from one single application:
Digital Property Guide
Digital Access & Smart Locks
Local Recommendations
Check-In and Check-Out
Guest Messaging
Smart Home & IoT
Owner Acquisition Opportunities
Property manager can also leverage this tool for owner acquisition. When a potential owner is looking at your vacation rental management company over the competition, you can show them how easy it is for you to highlight their property and its amenities to your guests. After all, who wouldn't want to stay a property with this unique application feature… and who wouldn't want their property to feature this application?
Set-up is a Breeze
VRM and DACK have done the heavy lifting for you during our integration process. Setting up your DACK account is simple and user friendly. Click here to read VRM's help article regarding this new and exciting offering.
Real-Life Success Stories
DACK clients have experienced remarkable results. Many have reported significant revenue growth, improved guest satisfaction, and increased bookings. By harnessing the power of DACK, these managers have gained a competitive edge in the market and elevated their properties to new heights. Will you be one of the first from VRM to experience this for yourself?
In an industry driven by guest expectations and revenue optimization, DACK offers vacation rental managers a powerful and engaging solution. By leveraging this tool, managers can tailor the guest experience, optimize revenue, and streamline communication. It's clear that this innovative tool is a game-changer for the vacation rental industry.
If you're a VRM vacation rental software client seeking to elevate your vacation rental business, consider partnering with DACK. Unlock the full potential of your properties, provide exceptional guest experiences, and position yourself for success in the competitive vacation rental market. Visit DACK to learn more or to schedule your demo.
Remember, with DACK, the power to curate unforgettable guest experiences and maximize revenue is in your hands.
To see a full list of VRM's integrations partners, click here.
Comment on this post!