---
How to Engage with Guests to Create Higher Retention
Posted On Friday, February 23, 2018
---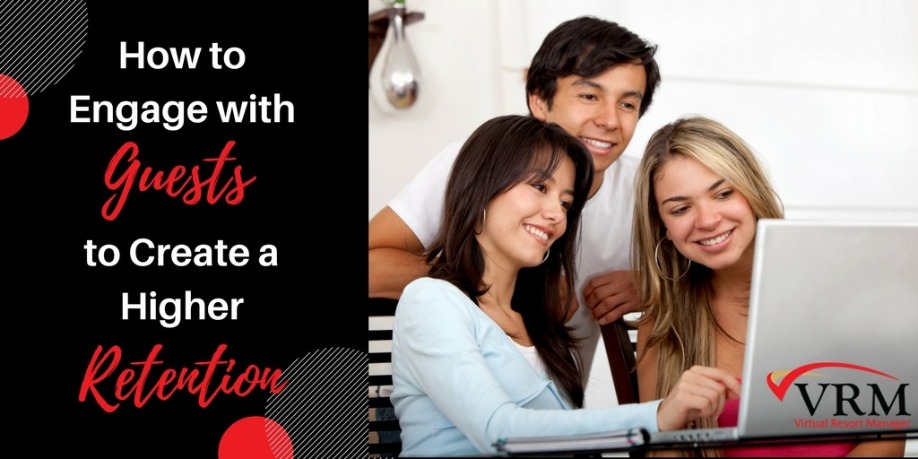 As your vacation rental software provider, you and your guests are our top priority. Our system is not only designed to help you acquire guests and help run the backend of your business, but to also create a higher retention rate of the guests who come through your doors.
Inside our vacation rental software, there are numerous applications that have been developed with all aspects of your business in mind. Within our Welcome Home feature alone, there are so many amazing tools for you to use that will help your guests. Another aspect of Virtual Resort Manager that offers valuable insight into the conversation about guest retention is our Marketing Department. Keeping reading to find out how you can corner the market on guest retention.
EMAIL MARKETING
When it comes to communication with your guests, email should be at the top of your list. And turning that communication into a marketing technique for guest retention is one of the quickest ways to see an increase in ROI. According to Campaign Monitor, "email marketing is the king of the marketing kingdom with a 4400% ROI and $44 for every $1 spent."
No vacation rental management business wants to overlook the tremendous value of the returning guests. You have already done the hard work of marketing to and obtaining that guest, and the goal is to have that guest come back year after year... and bring their friends and family. On one hand, marketing to an existing client is cheaper and easier, but on the other had it is ESSENTIAL. You can use the information that you have gathered about the guest to create custom email marketing that will appeal to THEM.
CONTESTS
When was the last time that your business ran a contest that was exclusively for prior guests? One idea straight from the VRM Marketing Department is to run a "Show Off Your Last Vacation" picture contest. You can send out a segmented email to guests from the last year or two announcing the contest and the prizes. Be sure to invite guests to follow along with the contest on social media, and promise a LIVE Facebook announcement of contest winners. Prizes could range from a free to discounted stay, attraction tickets, or even amazon or gas gift cards. Wouldn't it be great to have YOUR name in front of all your prior guests, and have them engaging with you during prime booking season?
There are numerous ways that you can run a contest, so get your team together and come up with a few creative ideas. Remember to check with local and social media rules about running contests. This is a great way to increase engagement on your social media as well, helping your items show up higher in potential renters new feeds. It will establish you as the authority in your industry and can set you apart from the competition!
RETURNING GUEST DISCOUNT
Many of our VRM clients offer a returning guest discount. This discount typically ranges from 5%-10% off of base rental rates. VRM makes it easy to create and manage discount codes, giving you the freedom to run different kinds of discount campaigns, with separate discount rates at unique times.
Be sure to communicate your discount to past renters through newsletters, in-home cards, welcome brochures, etc. Guests feel that you are honoring their patronage by offering them a discount choose you again for their next vacation. A discount combined with an A+ customer service experience will have guests returning to you again and again.
If you are unfamiliar with how to use discount functionality within the VRM software system, VRM clients can click here to learn how to add discount codes.
SOCIAL MEDIA
Another way to engage with your previous guests is via your social media channels. Many companies spend a lot of time focusing on overcoming any negative comments and reviews, and the positive comments fall through the cracks. Monitoring your social media with a sharp eye should be a huge part of your marketing strategy for guest retention and acquisition. When a guest sees that you are fully engaged in conversations they will come back to you year after year to book from you. Creating an engaging guest experience is all about making sure that you are present and ready to help them when they need it. Not surprisingly, most major brands are giving time and attention to social media support. A recent study shows that over 67% of consumers now use social media as a means to get resolution of issues.
Be sure to like and reply to people's comments, thank them for sharing your posts, ask questions, and BE ENGAGING!
USE WELCOME HOME MESSAGING TO ITS FULLEST
Don't underestimate Welcome Home, both the lite and complete versions of the tool, are powerful guest retention tools and can completely change a guests' experience with your company! These VRM tools could save you some serious time and money.
Welcome Home Messaging is a wonderful tool the helps improve communication with guests and owners. To see this tool in action, check out our Welcome Home Messaging webinar by our very own Lauren Schreckengost as she walks your through this powerful feature so you can learn how to use Welcome Home Messaging to its maximum potential.
If you are ready to grow your business and take customer relationships to the next level, then watch this webinar! Did we mention both of these tools are FREE?
Be sure to take a look at a side by side comparison of Welcome Home Lite and Welcome Home Complete. It may be time for an upgrade.
IN-HOME GUEST CARDS
Most of you already have some form of guest card that is standard in each of your rentals. Beyond general information and emergency contacts, be sure to include:
- Your social media profiles
- Returning guest discount codes
- Where guests can find area discounts and answers to FAQs
- The guest card could include an area coupon
- Reminder to take guest survey
You are already offering your guests the best user experience by providing them the most reliable and secure vacation rental software in the industry, and by providing a great first impression to your business via a custom designed VRM website. Be sure to keep your guests coming back year after year with an amazing marketing strategy and a plan for guest retention.
One final tip for guest retention: Listen to your guests! They are your best resource for growing and improving your business.
Want to LeaRN more?
Join us for Tea With Brittany Lea March 8th at 2 pm EST where we are talking with fellow rental manager, Leslie Painter, of Better Beach Vacations about some of her guest retention and OTA busting techniques!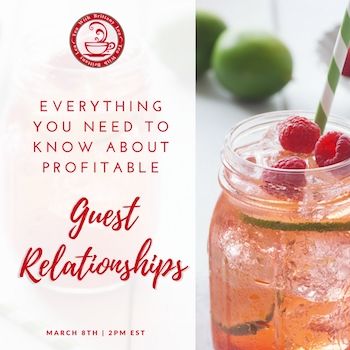 Comment on this post!