---
VRM Insider, Roundtable with Miller Hawkins and Maximizing Your Revenue This Year with RevMax
Posted On Wednesday, May 18, 2022
---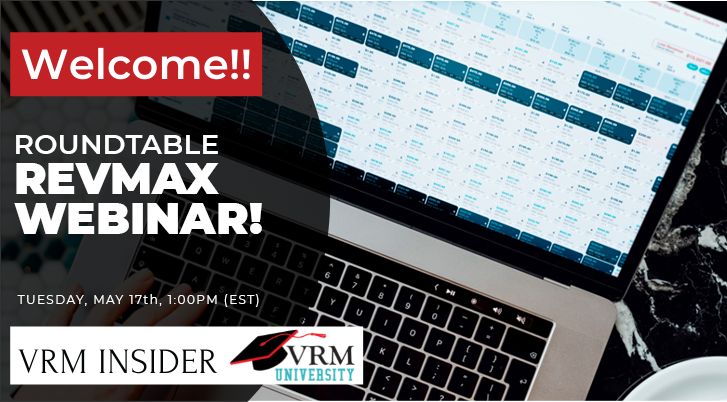 Welcome to the May edition of VRM Insider. This webinar is dedicated to bringing our vacation rental software clients informative and educational material. In this month's webinar you will find a roundtable conversation with Miller Hawkins, Owner of Booe Realty & VRMA President, and Adam Norko, Inhabit IQ's Senior VP of Sales - Vacation Brands. The VRM team reached out to a few of our clients for questions to ask during the roundtable discussion. One question, as you will see in the webinar replay, is about automatic pricing tools. So, in addition to the Q&As, we are also introducing you to a brand new revenue management system called RevMax.
Watch the Replay!
If you didn't catch the live webinar or would like to watch again, click the play button to the left. This one-hour presentation is packed with great information. Hear from Inhabit IQ and where they see VRM five to ten years from now. You will also hear from Miller Hawkins as to why he is such a fan of VRM's vacation rental software and why he believes in VRMA's Right to Rent Program.
Want to watch our previous webinar about Right to Rent with Miller Hawkins, click here.
If you would like to check out the Right to Rent Program, click here for the VRMA Right to Rent page.
Be sure to listen until the end of this webinar! We don't want you to miss the RevMax demo by Rev Max founder and GM, Desiree Gracia. This revenue management tool has all the bells and whistles, is fully customizable, and comes with a team of industry professionals.
If you would like to learn more about RevMax, please reach out to VRM's Client Success Manager. Lauren is here to help you succeed! [email protected]
Bringing you the latest at Vrm & in the industry
Click below to access replay information for all previous webinar.
Comment on this post!